Register for a 7 day free trial
If you want to subscribe to the 10 daily technical analysis reports from The Market Chartist please use the registration form.
Reports cover:
FX - EURUSD, GBPUSD, USDJPY, USDCAD, AUDUSD, NZDUSD
Stock Indices – S&P 500, DAX, FTSE 100, EURO STOXX 50.
You can see an example of our recent reports here.
KNOW MORE
£40/month gives you up to 200 reports/month.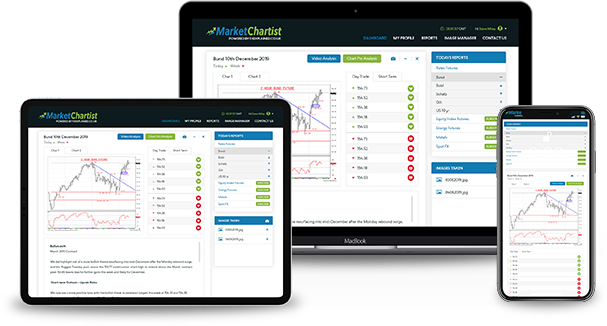 The Service
Market Chartist technical analysis research reports have established a strong global, institutional client base since launching in 2012. Clients include global investment banks, institutional brokers, research boutiques, hedge funds, high net worth individuals, plus professional traders and investors.

But now you too can benefit!
The multi-award-winning Market Chartist is now branching out to offer all professional traders the opportunity to share in the benefit of our research.
As The Market Chartist, Steve Miley has won many awards from the Technical Analyst Magazine. He was the 2016 & 2013 Winner (plus 2014 Runner Up) for Best Independent Fixed Income Research & Strategy and winner of Best FX Research & Strategy in 2012. He was also a finalist in the Technical Analyst of the Year category each year for 2012-2018. Learn more about Steve here.
With 10 daily reports covering Forex and stock indices, we allow our clients to benefit from the day trade opportunities in next few hours and through the day, but also offer the intermediate/ swing trader a view for the coming 1-2 weeks.
GET STARTED
£40/month gives you up to 200 reports/month.
About Market Chartist
Steve Miley is The Market Chartist and has three decades of financial market experience. He spent 2009-2012 as a Director of the FX Technical Analysis Research Strategy team at Credit Suisse and was previously at Merrill Lynch for 15 years; 10 years as a technical analyst, 5 years in Fixed Income sales.
He was 2013 winner of the Technical Analyst Magazine Award for Best Independent Fixed Income Research & Strategy, Runner Up for the same award in 2014 and was the winner of Best FX Research & Strategy 2012 (at Credit Suisse).
Steve is also the Editor-in-Chief for FXExplained.co.uk, the Academic Dean for The London School of Wealth Management, plus Senior Investment Advisor at Kylin Prime Capital.
Steve is a Member of the Society of Technical Analysts (MSTA) and holds a Masters Degree in Politics, Philosophy & Economics from Lincoln College, Oxford University.
As an analyst Steve has covered all major asset classes including Rates & Credit, G10 & EM currencies, Equity Indices & Sectors and Commodities and has strong relationships across the institutional financial trading spectrum, including Central Banks, Investment Banks, Hedge Funds and Global Corporates.
Have quesions?
or call us at:
+44 (0) 207 412 8900