Award Winning Analysis
As a trader, can you afford to be without the multi award winning Market Chartist reports to assist you in your day trade and short-term trading? We think not!
Get access to the reports used by the professional, financial market community. Try our reports today and see your trading improve.
KNOW MORE
GET STARTED
£40/month gives you up to 200 reports/month.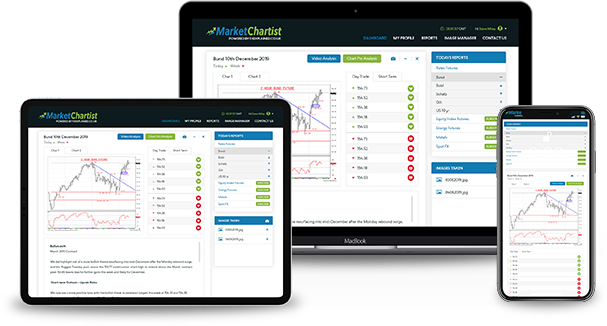 The Service
Market Chartist technical analysis research reports have established a strong global, institutional client base since launching in 2012. Clients include global investment banks, institutional brokers, research boutiques, hedge funds, high net worth individuals, plus professional traders and investors.

But now you too can benefit!
The multi-award-winning Market Chartist is now branching out to offer all professional traders the opportunity to share in the benefit of our research.
As The Market Chartist, Steve Miley has won many awards from the Technical Analyst Magazine. He was the 2016 & 2013 Winner (plus 2014 Runner Up) for Best Independent Fixed Income Research & Strategy and winner of Best FX Research & Strategy in 2012. He was also a finalist in the Technical Analyst of the Year category each year for 2012-2018. Learn more about Steve here.
With 10 daily reports covering Forex and stock indices, we allow our clients to benefit from the day trade opportunities in next few hours and through the day, but also offer the intermediate/ swing trader a view for the coming 1-2 weeks.
GET STARTED
£40/month gives you up to 200 reports/month.
FAQ
Do you need to be a professional trader to use Market Chartist reports?
Although you do not have to be a professional trader to use Market Chartist reports, we would suggest a very good understanding of financial markets, trading strategy and a basic knowledge of technical analysis are all very important when trading financial markets. You can see educational content here at FxExplained.co.uk
How often are the Market Chartist reports published?
Market Chartist reports publishes ten reports on ten different markets every 24 hours, for the five trading days. Three reports on Asia/ Pacific Forex are published late afternoon UK/ European time, plus 7 reports very early morning, 06:00-07:00 UK time.
Does Market Chartist provide trading signals?
No, does NOT provide explicit trading signals. However, the reports do provide an indication of likely price direction on both a very short-term (day trade) perspective, and on an intermediate-term (1-3 week) time line. Furthermore, the reports highlight the critical levels at which the trading view can change, alongside target levels in both directions, up and down.
Do Market Chartist reports have a proven track record?
We do not publish a track record of our recommendations, primarily because the reports are somewhat subjective, meaning that there are not explicit trade recommendations, but simply guides to Action market direction. Market Chartist does, however, have a long track record in financial markets and providing technical analysis reports to institutional investors.
What if I'm not happy with the Market Chartist reports?
You can cancel your subscription to Market Chartist at any time, you only pay on a monthly basis.
How do I interpret the Market Chartist reports?
The Market Chartist reports only use technical analysis to provide indications of the likely directional bias for the market on both a day trade and intermediate-term trading perspective. The day trade directional outlook is indicated by an arrow on the report, then in the description of the "Day trade outlook", The likely price targets are indicated in that direction , alongside the risk if the market move in the other direction, highlighting where the directional bias shifts. The intermediate-term section indicates the swing/ position trade view, that is the directional theme for the next one dash 3 weeks, again with levels indicating where this theme changes.
About Market Chartist
Steve Miley is The Market Chartist and has three decades of financial market experience. He spent 2009-2012 as a Director of the FX Technical Analysis Research Strategy team at Credit Suisse and was previously at Merrill Lynch for >
He was 2013 winner of the Technical Analyst Magazine Award for Best Independent Fixed Income Research & Strategy, Runner Up for the same award in 2014 and was the winner of Best FX Research & Strategy 2012 (at Credit Suisse).
Steve is also the Editor-in-Chief for FXExplained.co.uk, the Academic Dean for The London School of Wealth Management, plus Senior Investment Advisor at Kylin Prime Capital.
Steve is a Member of the Society of Technical Analysts (MSTA) and holds a Masters Degree in Politics, Philosophy & Economics from Lincoln College, Oxford University.
As an analyst Steve has covered all major asset classes including Rates & Credit, G10 & EM currencies, Equity Indices & Sectors and Commodities and has strong relationships across the institutional financial trading spectrum, incl>